KATE: I'm not quite sure I can say I have now been to Munich. After a 7 hour train journey from Brussels and a changeover in Frankfurt, we arrived in Munich, well and thoroughly knackered. Consequently, I did not get to see any of Munich other than the inside of my hotel room, as I swiftly fell asleep. Thankfully, this hotel did not require fleeing.
It is strange to think that only yesterday morning we were in Brussels – we have travelled the 446 miles to Salzburg in the interim. Salzburg may well be the most beautiful city I have ever been to; the Old Town (or Alt-Stadt (you have my GCSE German teacher to thank for my entirely helpful translations)) is truly the most gorgeous collection of European architecture, surrounded by towering cliff faces, into which various churches and abbeys are built. The skyline is home to impressively grand, baroque spires, foregrounding a high-on-the-hill tree-surrounded fortress (sorry).
Perhaps you think you have a rough estimate of how much I adore The Sound of Music, given that I am almost always singing 'I Have Confidence'. You may also have had an inkling given that I am here, specifically to do the tour which I bet you didn't even know existed. I can assure you, you do not. Not even close. Whatever you think, triple it. Tenfold it. The film is truly my happy place. To have it realised in Mirabell gardens felt like I was walking on holy ground – I could feel the life force of Julie Andrews almost possess me to trill away the final top notes of Do-Re-Mi on the ACTUAL steps they jumped up and down (see the photo). I may have to warm up my high notes before the tour tomorrow to truly embrace my inner insufferable musical theatre kid. (And yes, I walked on the wall around the fountain you can see in the backdrop. I wonder how much CCTV footage they have of British tourists doing that.)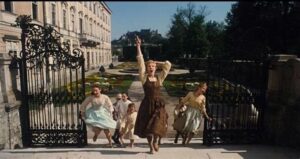 ALLAN: Well, Salzburg is very…nice, is the first word that comes to mind. And clean. And well-behaved. And Christmassy – I guess the Christmas market helps with that but the whole town exudes a sort of year-round christmas-ness so that, even in the middle of July one could imagine it would still be cold and snowy and filled with little shops selling tree decorations, apple strudel and nativity scenes. Spend too long in a place like this and you could suffer a fatal overdose of cinnamon.
Apart from its undeniable loveliness – Salzburg is also home to a major culture war. On the one hand, as the birthplace of Mozart, Salzburg revels in Mozart festivals, Mozart concerts, Mozart soirees, Mozart tea towels and even Mozart rubber ducks. In fact Mozart would just about dominate everything to do with Salzburg if it wasn't for his cultural nemesis. The Sound of Music!!!!
The SoM is, of course, based (loosely) on the story of the family Von Trapp and as the 1965 movie was filmed entirely in and around Salzburg it has been giving the Mozart crowd a run for their money for over 50 years now. There are SoM tours, SoM plays, a SoM museum and even a SoM puppet show (imagine the bastard child of 'The Lonely Goatherd' and Gerry Anderson and you have the general picture).
Of course Mozart is all very nice and has lots of notes all played very cleverly in the right order, but for a true Von Trapp fan, there can be no comparison to the final bars of Do-Re-Mi preferably sung on the steps of the Mirabell Palace whilst trying to hit a high 'C' (at least that's what most of the tourists here seem to be doing). Alas, for the Mozart crowd, we have arrived already firmly committed to Team Julie and tomorrow we will reach the high point of our pilgrimage – THE SoM COACH TOUR! (Singing along compulsory).
I can't wait – in the meantime, we are drinking coffee and eating crisp apple strudel and there is a real-live nun at the next table. I am itching to ask her if she knows Fraulein Maria